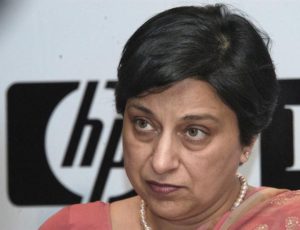 Neelam Dhawan             
A mother of 2, a committed wife and one who loves to adorn herself with strings of pearls; Neelam Dhawan is an icon in India's corporate sphere. Whether she is taking care of her family, wearing jewelry or making important business decisions, Dhawan believes in using the opportunities that come her way in the best possible manner.
She is Managing Director of Hewlett-Packard India- reputed as the largest IT company in India as well as one of the nation's largest employers, with businesses spanning PCs and laptops, printers, software, enterprise storage networking, services, Business Process Outsourcing (BPO) and R&D to systems engineering, application development and infrastructure management services.
Prior to this time, Neelam was the Managing Director of Microsoft India, a position she held from 2005 to 2008. It was the first time that she walked into the corridors of a software major because until then, she had worked only for the hardware industry. She was the head of sales and marketing operations at Microsoft, where she also learned to deal with both the customers and channel partners. She also tried her hands on people management and brand awareness. She made such a remarkable impression that Microsoft Corporation declared Microsoft India as its subsidiary in the entire APAC region in 2006.  Soon, she became the face of Microsoft India despite the fact that there were many senior leaders in the company at the time. During the course of the time, she assumed the responsibilities of Managing Director (India) for Microsoft Corp and later on went back to her passion "hardware."
Preceding this assignment, Neelam held a variety of successful leadership positions in leading Indian IT companies, including HCL and IBM. Neelam holds a bachelor's degree in Economics from St. Stephen's College, New Delhi and a Masters in Business Administration from the Faculty of Management Studies, Delhi University.
However, like most success stories, Neelam has had her fair share of failures before she acquired this glorious success. In fact, companies like Hindustan Lever Ltd. (now Hindustan Unilever Ltd.) and Asian Paints did not hire her as the HR people of these companies thought she did not have the spark in herself. It was largely a stereotypical bias of the 80s and 90s that a woman cannot handle the role of 'the successful marketer'.  But Neelam Dhawan was not among the quitters, who accept failure too quickly. She was among the rare species, who are stronger than most of their contemporaries, including males.  She was determined to venture into the unchartered territory of the IT industry of that time, that too in the role of a marketer, where no Indian lady had ever claimed any noticeable achievement. As such, she successfully created history and became an inspiration for thousands of young ladies, who quit midway getting disheartened.
It rather unbelievable that she was the face of Indian arm of Microsoft throughout her stint, especially in the light of the fact that she ended up working for IT industry accidentally. The employers at that time succeeded in closing the doors on her but they did not shut the door to 'her determination and believe in herself.' This undaunted convictions, rather opened the doors to the IT and software industry in the field of marketing, and established her as a leading name in the entire IT industry of India.
In 2008, she again joined HP, the company where she had learned a lot about IT industry, but now she took on a more challenging role of a Managing Director. It was a tough time as the company was faced with many troubles. Competition was increasing and dollar was depreciating, so the ride was not so smooth.  She put on the leadership cap and successfully sailed the company out of the trouble waters. Impressed with that, Meg Whitman, another woman stalwart and the global leader of HP assigned her an extended portfolio of IT services and software engineering research. Neelman is an unconventional story of success in the IT industry, where the ratio of female employees is less than 18%.
She is one who is equally committed to both her family and career. A profound story was told of how the enthusiastic Neelam went back to work within seven days of having her baby.
She explained that long breaks after child birth is one of the biggest reasons for women falling back in their careers and the reason why there are few women in the top management of companies. Dhawan says breaks need not be career-restraining, so long as women who take breaks keep themselves updated during the months they are away. "Our industry is changing so quickly that if you do not keep yourself updated, you will become dated. You have to have seriousness about your career. You can't say things like family will be first. You have to set aggressive career goals for yourself."
Married to Atul Dhawan, who is very cooperative and doting husband; with two daughters and mother-in-law, who all form the support system that has contributed to her successful career; Neelman, is today a graduate of BA (economics) from St. Stephen's College, New Delhi in 1980, followed by an MBA in marketing management in 1982 from FMS New Delhi.
---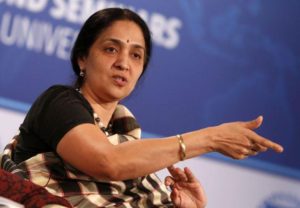 Chitra Ramkrishna
It's rare that a woman runs a stock exchange — there are just three in the world. Even rarer to find one who was chosen 23 years ago for the crack team that created it and then climbed the ranks to become its chief executive officer in traditionally patriarchal India.
Chitra Ramkrishna, 52 and head of the National Stock Exchange of India, wants to retain the startup culture of her early days that helped grow the NSE into the world's third-largest bourse by number of trades and the leader in India with an 82 percent market share that dwarfs the 140-year-old Bombay Stock Exchange, or BSE. When the NSE needs something new, it creates a team: Currency trading, bond futures and exchange-traded funds are the fruits so far. Another team is now working on bond innovations to go beyond the current 10-year product.
"There is a huge level of energy and can-do attitude that is in a startup culture which we shouldn't lose," Ramkrishna said in an interview last month at the NSE's squat, glass-fronted headquarters in Mumbai. "For the rest, there is huge focus on processes and discipline that we have to bank upon. We try to get the best of both worlds."
Ramkrishna, an upper-caste Brahmin who calls Mahatma Gandhi her role model, wants to make stock markets accessible to India's middle classes using the exchange-traded baskets of securities known as ETFs.
"I'm sure even he would have bought my ETFs!" she said.
ETF Push
Getting living Indians to buy them is another story. Last year, the NSE held more than a dozen public financial awareness programs and continued a marketing push to get banks and brokerages to encourage investors to put their money into ETFs. Domestic investment can cushion imbalances created by overseas hot money flowing in and out of India. Less risky than individual stocks, they can be a way for people to invest for retirement.
Just an estimated 1.5 percent of Indian households own equities, compared with 10 percent in China and 18 percent in the U.S. Still, domestic investors, fueled by optimism over the election of Prime Minister Narendra Modi, channeled $6.7 billion into Indian equity mutual funds including the NSE's 42 ETFs in the fiscal year ending in March. The NSE's CNX Nifty Index rose 27 percent in that period before dropping 3 percent since April 1.
"I'm driven by the belief that more ordinary people should be able to prosper and benefit from the stock market boom in India," said Ramkrishna, whose father and grandfather were accountants.
'Grown Up'
Ramkrishna, who took over as CEO in April 2013 after serving as co-managing director, has "grown up with the exchange," said S.B. Mathur, the bourse's chairman. "She knows the nitty-gritty of the operations, the technology and risk-clearing, since she has been with the place from day one."
Ramkrishna was working at the state-run Industrial Development Bank of India, or IDBI, after earning degrees in commerce and an accountancy in Mumbai, where she was brought up after being born in Chennai. In 1992, she and four other technocrats were selected to join a team to build the first nationwide bourse. Ramkrishna was the only woman, picked because of her experience at IDBI in the 1980s working on a blueprint for a national regulatory agency that led to the creation of the Securities and Exchange Board of India.
The NSE team was mandated to develop technology to move trading from open-outcry to electronic, untested in India at the time. They were going up against a Goliath, the Bombay Stock Exchange, that had been entrenched since its creation in 1875.
'Enormous Freedom'
"People were really skeptical about us when we started," Ramkrishna said. "It gave us enormous freedom, there were no expectations. We were able to question a lot of existing paradigms. We could even be irreverent about it."
They worked out of a tiny, leased office in a part of central Mumbai known for its defunct textile mills. The average age of the team was 25 — only because its leader, R.H. Patil, was around 60 at the time and used to joke that he skewed the average upward, Ramkrishna recalled. They all worked intensely with a startup mindset, and they had a blast, she said, "a party every evening."
Investors, freshly bruised by India's worst-ever stocks scam, were receptive to change. In 1992, a rogue trader, Harshad Mehta, had funneled money borrowed from banks into equities on the BSE, pushing up stock prices and earning the moniker "Big Bull." When the $2 billion fraud was discovered, it caused a market crash.
The NSE team identified an inefficiency at the BSE that allowed in only select brokers. Ultimately, its creation ended the open-outcry trading system, where brokers in the pit used hand gestures to find buyers or sellers and cut deals.
God Knew
"How price discovery happened in those situations, only God knew," according to A. Balasubramanian, an early stock market investor and CEO of Birla Sun Life Asset Management Co., which manages about $18.7 billion.
NSE's new screen-based trading started in 1994. Using a satellite, it displayed stock prices that could be accessed simultaneously at brokerages nationwide.
"We kept crossing our fingers on many days, but the good news is that when we switched it on, it worked!" said Ramkrishna.
The NSE introduced refundable membership for brokers, replacing BSE's earlier system of auctioning broker permits that restricted the number of participants and trading volumes. Antiquated "badla" contracts, an indigenous system using credit for stock purchases, were substituted with more sophisticated futures and options. Nearly 60 percent of NSE's broking membership in the early days came from cities other than Mumbai.
Old Boys
"It also benefitted from the perception back then that BSE was run like a cartel, an old boys' club," said Balasubramanian. "NSE has been very nimble-footed."
The NSE's 82 percent share of India's trading over the BSE comes despite the older exchange having the largest number of publicly traded companies in the world: 5,625 versus 1,733 on the NSE, according to data from the World Federation of Exchanges. The NSE also introduced a range of indexes such as for mid-cap, small-cap and infrastructure stocks, giving investors greater choices, said Balasubramanian. NSE index options, in which the exchange leads the world in trading volume, track companies including those that make cigarettes and tractors or mine coal.
The NSE has spawned a generation of young, technology-savvy investors and brokers who led the stock market boom in the early 2000s, said R.K. Gupta, managing director at New Delhi-based Taurus Asset Management Co.
"It shook the old boys' club, bringing in new technology, more speed and transparency," he said. "NSE was a disruptor."
---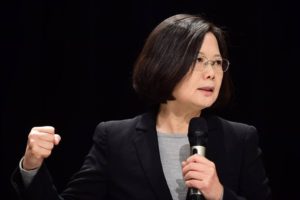 Tsai Ing-wen
Born in Zhongshan District, Taipei, Taiwan and starting her early days in Fenggang, a village in the southern county of Pingtung, Tsai Ing-wen was youngest of nine children. Though she was born of an entrepreneur father who was considered well above average in living standards, Tsai is no stranger to the disadvantages of striving to succeed as a woman in a male dominated world. In a recent interview, she recalled that as the youngest daughter in her family, she was required to spend hours caring for her entrepreneur father and was not considered a kid that would be successful in her career. Tsai however conquered those barriers and she set about confounding those expectations as she completed a law degree at the College of Law, National Taiwan University, in 1978. She also obtained a Master of Laws at Cornell University Law School New York in 1980 and a Ph.D. in law at the London School of Economics in 1984.
Tsai has described herself as someone who likes to walk next to walls to avoid the spotlight and characterized her rapid ascendency in politics as an "accidental life". That did not take away from the determination and impact of the Asian Amazon as she charted her course to become the first female president of Taiwan. Tsai Ing-wen returned to Taiwan to take up a series of teaching positions after her education. Upon her return, she taught law at the School of Law, Soochow University and National Chengchi University, both in Taipei. By the early 90s she had gone into government, working as a key trade negotiator involved in Taiwan's in entry into the World Trade Organization, and eventually as a national security adviser to the KMT president Lee Teng-hui. She was appointed to a series of governmental positions; where she served as Minister of the Mainland Affairs Council, became a member of the Democratic Progressive Party (DPP) in 2004 and served briefly as a DPP-listed non-constituency member of the Legislative Yuan. She was appointed Vice Premier under Premier Su Tseng-chang until the cabinet's mass resignation in 2007. She was elected and assumed DPP chairpersonship in 2008. In the course of her rise and as a politician she became the first female presidential candidate of a major party in the history of the Republic of China.
The Asian Amazon has been traditionally supportive of disadvantaged groups in society, including the poor, women and children, Taiwanese aborigines, and LGBT groups. She favours government action to reduce unemployment, introducing incentives for entrepreneurship among youth, expanding public housing, and government-mandated childcare support. Tsai is the first unmarried president, and the first to have never held an elected post, she supports government transparency and more prudent and discipline fiscal management
Ms Tsai who initially wanted to study archaeology or history was discouraged by her father who questioned how she could make a living; was not one to give up easily on her goals. Her determination to succeed was not weakened when she narrowly lost the election for mayor of New Taipei in 2010 or the 2012 presidential election. She re contested the 2016 presidential election and today stands as One of the first women to be elected leader of an Asian state without coming from a dynasty, she is also the first woman officially to govern a Chinese-speaking nation since Empress Wu Zetian in the eighth century.  Taiwan's first female president, Ms Tsai Ing-Wen is a scholar with a moderate and soft spoken personality which appeals to Taiwan, though she possesses a low-key personality, she is not to be underestimated. An Asian Amazon on the Front line, Tsai has vowed to build a new era of politics