Ambassador Amina Mohamed is a committed international civil servant who has a distinguished career in both public and foreign service. She has served in strategic government positions and been elected to key international positions. Her work experience in over twenty-six years covers a broad spectrum of domestic and international assignments. She rose through the ranks in Kenya's diplomatic service to the highest level of Ambassador/Permanent Representative Kenya.
Mission to the UN at Geneva from 2000-2006. She served as Director, Europe and the Commonwealth and Director Diaspora from mid-2006-2007 and was Permanent Secretary, Ministry of Justice, National Cohesion and Constitutional Affairs in 2008. Since July 2011 she has served as United Nations Assistant Secretary-General and Deputy Executive Director of the United Nations Environment Program (UNEP) at Nairobi. She is an excellent strategist and visionary anticipating the management needs of every organization she has been involved with. With her profound knowledge of the World Trade Organization (WTO) and her strong managerial skills, Ambassador Amina Mohamed has all the required competencies to lead the WTO into the future.
Early/Personal Life
Amina Chawahir Jibril Mohamed was born on 5th October 1961 in Kakamega, Kenya, to an ethnic Somali family. She is the eighth of nine siblings. Her family belongs to the Dhulbahante Harti Darod clan and hails from the northern SSC region of Somalia. Mohamed spent her childhood in a modest household in Amalemba, Kakamega, where she passed much of her time reading Sherlock Holmes stories and other detective fiction. She later developed a taste for international affairs.
During her elementary education, she attended the Township Primary School in Kakamega and later Butere Girls and Highlands Academy. Her mother believed strongly in the importance of education, and would frequently drop by her classes to monitor her performance. Upon graduation, Mohamed moved to Ukraine on a scholarship to study at the University of Kiev. She completed the institution's courses, earning a Master of Laws (LLM) in International Law. Mohamed later obtained a Postgraduate Diploma (PGDip) in International Relations from the University of Oxford. Through a Fellowship at the United Nations Institute for Training and Research (UNITAR), she also followed several training courses on international law. In 2002, Amina married Khalid Ahmed, a fellow Somali to whom she credits a lot of her success. The couple has two children and also cares for four orphans.
An Impeccable African Diplomat
Ambassador Amina Mohamed has a great diplomatic career since 1986 and rising through the ranks to become Ambassador/Permanent Representative, Permanent Mission to the Republic of Kenya at Geneva in 2000. As the Permanent Representative, she represented Kenya in the UN system and the World Trade Organization (WTO) among other international organizations.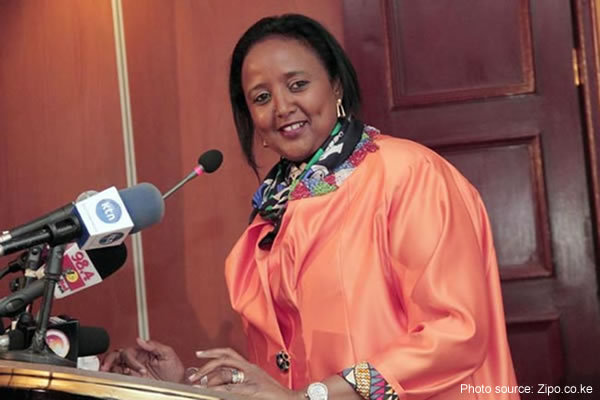 Her strong interpersonal skills in negotiations, developed during her career in the multilateral fora, enabled her to effectively articulate Kenya's interests in the WTO. She participated in the drafting and interpretation of International Trade Treaties.
A Great Public Servant and Reformer
She was instrumental in restructuring, reforming and rationalizing Kenya's Ministry of Foreign Affairs and Missions abroad. Ambassador Mohamed chaired the team that drafted Kenya's foreign trade policy focusing on economic and commercial diplomacy. As Permanent Secretary, Ministry of Justice, National Cohesion and Constitutional Affairs, she supervised the drafting, negotiation, national referendum, and promulgation of the new Constitution of Kenya 2008-2010, including institutional reforms on elections, ethics and integrity, access to justice and the development of a national cohesion policy.
At United Nations Environment Program (UNEP), Ambassador Mohamed spearheaded the implementation of UNEP's Medium-Term Strategy and Program as well as on-going reforms. Most recently she has been actively engaged with intergovernmental processes in implementing the RIO+20 outcomes and support efforts to enhance the funding base of the organization.
Legal Practitioner of Awesome Repute
With her experience in the international engagements, she has provided legal advice during Kenya's tenure in the Security Council, negotiations in the WTO, particularly in launching the Doha trade talks and contributed texts in Kenya's constitution where foreign trade has been integrated with Foreign Affairs.
A visionary Team Leader
Ambassador Amina Mohamed throughout her career has demonstrated solid Leadership and proven negotiations skills. She chaired three key WTO bodies: The Dispute Settlement Body, the Trade Policy Review Body and the General Council during her tenure in Geneva during which important decisions and recommendations were made. Under her leadership as the General Council Chair, the accession of Saudi Arabia was concluded; she guided the negotiations and preparation for the 2005 Hong Kong Ministerial Conference where substantial progress was made on Doha Development Agenda; the LDC's waiver on market access was successfully concluded and members agreed to amend the TRIPS agreement to legally allow WTO members without the capacity to produce pharmaceutical products to import and address public health concerns. At UNEP she has been instrumental in enhancing the capacity of the institution and seeking additional resources to initiate new goals and action plans.
Important Positions she has Held
Ambassador Amina Mohamed has served in lots of prominent positions which include;
February 2018 till date: Cabinet Secretary for Education (Kenya).

May 2013- February 2018: Cabinet Secretary for Foreign affairs (Kenya).

2011-2013: United Nations Assistant Secretary-General and Deputy Executive Director, UNEP.

2008- 2011: Permanent Secretary, Ministry of Justice, National Cohesion and Constitutional Affairs.

2010-2011; President of the United Nations Conference on Transnational Crime, Vienna

2006- 2007: Director, Europe and Commonwealth Countries and Director for Diaspora matters

Chairman the Task Force Sub – Committee on Strengthening and restructuring of the Department of Foreign Trade and Economic Affairs

2000- 2006: Ambassador Permanent Representative, Kenya Mission to the UN and other International Organizations at Geneva.

Chairman, Coordinator and the Spokesperson for the African Group in the WTO, Human Right Commission.

Served as President of the Conference on Disarmament in 2002.

Chairman the International Organization for Migration in 2002.

Chairman of the Trade Policy Review Body in 2003.

Chairman Dispute Settlement Body in 2004.

Chairman General Council in 2005.

Member of the Executive Boards and Committees of the WHO, UNHCR, WIPO, ILO, UNCTAD AND UNAIDS 2001-2005.

1990-2000: Kenya's Legal Advisor in various Missions abroad, including the 6th Committee of the UN

1986-1990: Legal Advisor in the Ministry of Foreign Affairs
Honors
Received honors include:
National Award of Chief of Burning Spear (CBS)

Knight of the Order of the Star of Italian Solidarity (Cav. O.S.S.I.)

Life Member, Red Cross Society

Member of the Life and Peace Institute International Advisory Council, Sweden.

Member of the World Economic Forum's Global Agenda Council on the Arctic.

Member of the Strathmore Law School Advisory Board, Kenya.

Honorary Doctorate from KCA University.

Grand Cordon of the Order of the Rising Sun (2017)

An elder of the Order of the Golden Heart of Kenya (EGH)
Ambassador Amina Mohamed has proven herself to a great representative of women both in national and international service. Her prowess has attracted praise from far and wide. Margret Kenyatta described her as a symbol of nationalism and patriotism.
BY EMEKPO CHARLES.